Recently, on behalf of Blue Grass Energy's Pennies for Purpose (PFP)  Program, Mike Williams, President & CEO of Blue Grass Energy presented a check for $1,500 to the Cynthiana – Harrison Co. YMCA Child Development Center.
This donation will help support the facility as it provides care for children six weeks through five years of age.
"Making life better, the cooperative way is our purpose at Blue Grass Energy. On behalf of our Pennies for Purpose program, we were happy to make a donation to the YMCA Child Development Center," said Williams. "The center will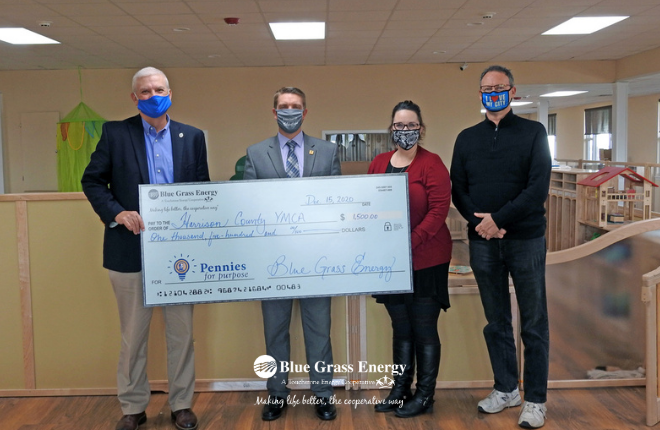 certainly make life better for some of our youngest members."
PFP is funded by Blue Grass Energy members who round up their monthly electric bills to the nearest dollar; and provides funding to charitable causes within their 23-county service area. To find out more about Pennies for Purpose, visit bgenergy.com.
Pictured L to R: Mike Williams, BGEnergy President & CEO, Andrew Beckett, YMCA CEO, Jessica Gallop, Center Director & James Smith, Cynthiana Mayor.